Hi friends
Today, I have a special guest on my space who I think will be very familiar to you all. She is none other than Meena from Elephants and Coconut Trees who has always inspired me with her wonderful clicks. I am an admirer of her amazing clicks and her wonderful personality. She has always inspired me with her instant comments and you can find many traditional and international recipes in her space and the way in which she has presented everything is really commendable. Among them Lychee and tender coconut pudding, fish finger sticks are few recipes which I would love to try out from her space. I am very thankful to her for accepting my request and gifting me this wonderful lemon cornmeal cake. Thanks a lot dear. May god bless you always. Now over to Meena..
Thank you so much Lisha for inviting me over to this lovely space of yours.Wish your blog all the best wishes in the years to come.
Hello lovely readers,
This is Meena from
elephants and the coconut trees
, a humble space where I share recipes . I am a Keralite presently living in the US with my husband and teen.
I have never met Lisha but I have a strange connection through her posts esp.the ones from our native place. Some of her simple curries are like hearing some old melodies that awakens nostalgia in me.
Few days back I was feeling really sick and had no appetite yet had to make something for the family. I was lazily glancing through the blogger updates and there comes a recipe with nice tart flavors from Lisha.
Vendakka puli
a preparation very often made in my ancestral home but I had completely forgotten about it. By the look of the curry I knew I had to try it immediately, sick or not…. She also has many non traditional recipes , my favorite is fiery version of soya chunks.
Over to the cake, cornmeal cake is like a happy marriage between
corn bread
and lemon cake. It is an old fashioned cake without too much fancy decorations or say loads of sugar blanket. Use brown butter/Ghee and a cast iron skillet for best results if you are trying to achieve the authentic taste,u may have to reduce the baking time as iron skillet retains heat lot more than baking pan. The citrus flavors simply tastes awesome with corn.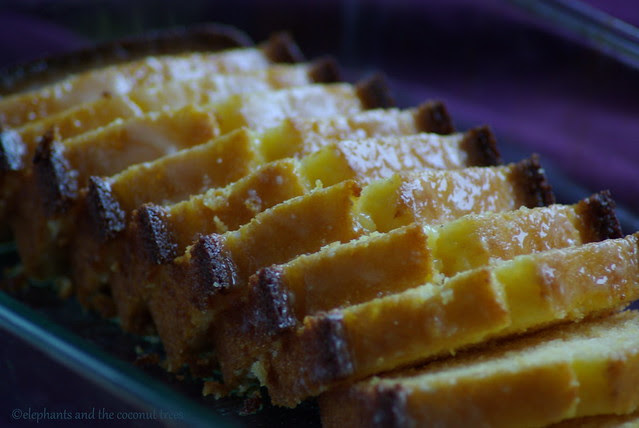 Ingredients:
All purpose flour – 1 cup
Cornmeal -1 cup
Baking powder-1 tsp
Eggs-2
Butter-1/2 cup(1 stick)
Sugar (granulated) -1 cup
Buttermilk – 1/2 cup or orange juice
Lemon juice- 1 tbsp
Grated lemon zest -1/2 tbsp
Lemon juice 1/4 cup
Syrup/Glaze:
Lemon juice -1/3 cup
Powdered sugar- 2 tbsp or slightly more
Method:
1.Whisk the flour ,cornmeal ,baking powder in a medium bowl.
2.In another bowl cream the butter by beating it then add sugar lemon zest and lemon juice.Once that becomes fluffy add eggs one by one beat then add the buttermilk finally fold the flour mixture just until everything is combined. Do not over mix.
3. Bake in a greased loaf pan, in a preheated oven at 350°F for around 30-35 minutes. Until the cake tester/skewer comes out clean. Cool the cake for 5 minutes. Unmold the cake if u can.
4.Mix lemon juice and powdered sugar for the glaze/syrup .Pour on top of the hot cake .
Let the cake absorb the syrup completely, let it sit overnight in room temperature.(u will see specks of sugar on top thats fine)
Slice and serve with a dollop of cream if you like.
The cake is good at room temperature for up to 4 days.
Serve along with tea.
Thank you so much for this guest post opportunity Lisha and hope you guys like the lemon cornmeal cake
enjoy cooking and sharing
nandoo